How to design a cosy and inviting living room fit for entertaining
| Living Room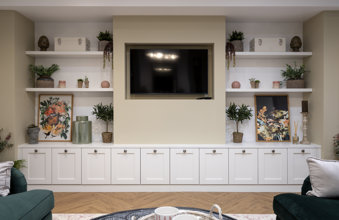 Ideas for a cosy, modern living room that's fit for entertaining
Your living room needs to be fit for purpose. Whether you love nothing more than sitting back and relaxing after a long day at the office or have a passion for entertaining, this room should become the heart of the home.
In this article, we'll look at some of the best ways for you to make your living room both cosy and a hub for entertaining.
Embrace the 'hygge' concept
A Scandinavian living principle that's all about a sense of cosiness, hygge is all about creating a calm yet joyful space. It revolves around using natural materials, chunky blankets and industrial touches for a toom that feels as chic as it does relaxing.
The goal is to create a space that calls out to moments of tranquillity and enables you to effortlessly entertain your guests, too. At Hammonds, we've developed a range of bespoke wooden fitted living room furniture to help you to strike the balance perfectly. With delicate, mild and natural tones throughout your living room, you'll instantly create an inviting space.
Use earthy tones and fabrics
It's just as easy to incorporate earthy tones alongside wooden furniture. By using a colour palette that revolves around warm, natural shades, you'll create a grounded scheme that allows guests to unwind. Some of the best cosy cottage living room ideas stray from brighter colours altogether, focusing only on neutral ones.
Whether you choose a rattan foot stool or a natural jute lampshade, adding these coarse and natural fibres will give your interior an organic feel. The charm and uniqueness of these rustic tones give your living room some character, all while keeping it relaxed. Just make sure that you know how to pick high-quality fibres to make the best choice for your home – and for the environment.
Add some homely touches
Nobody likes a clinical or soulless living room. To inject some personality, you can add in some features or design elements that make the room feel immediately more homely.
These might include open shelving, succulent potted plants, or some family photographs placed centre-stage. Combined, personal touches add a sense of nostalgia and create a warm, welcoming atmosphere. However, try not to add too many small items or trinkets: when these are scattered along a desk or sideboard, your space might start to look cluttered.
Consider colour-drenching
Colour drenching is where you use one colour to coat everything from the walls to the ceiling. This is usually a rich, decadent shade that helps both you and your guests to feel more cocooned and connected within a space.
It's important to note that this technique might not work for every type of living room. For example, if your space lacks natural light or has low ceilings, you'll need to try not to make it feel cramped. Use natural light as your guide to decide on a colour before you make it the dominant theme of your living room.
Dim the lights
Nobody wants 'the big light' on. Rather than having bright spotlights glaring from above, try to invest in an array of lamps and soft lighting sources. This will create a cosy, inviting space filled with cosy nooks where you and guests can socialise, read and relax.
A softer effect could be achieved with the glow of a flickering candle. As well as masking the scent of last night's dinner, candles help to create a homely ambience to suit your biggest cosy living room ideas.
Using different types and sources of lighting is part of a technique called layering. Used in the right way, this instantly adds texture to a space and means that you can benefit in a practical way, too. Whether it's a desk lamp for taking notes or a floor lamp for reading in an armchair, you can easily divide your space with lighting.
Make your cosy living room ideas a reality with Hammonds
At Hammonds, we offer storage solutions to suit a wide array of living room styles. Book a free design visit today to talk us through your living room ideas – and we'll help you to design a cosy space that keeps you and your guests comfortable.
You bring the space, we bring the inspiration
Whether you have an exact vision in tow, or are just at the beginning stage of your home renovation, we have heaps of inspiration for you to get stuck into. 
Find a wealth of design tips, trends and inspiration in the pages of our brochure, magazine and on our blog. Our experts are always ready to help you create dream home, pop in store or book your free design visit for experts to help on bringing your vision to life.