How to design & decorate a Parisian style bedroom
| Bedroom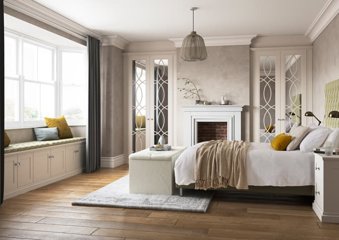 Style spotlight: How to design a Parisian style bedroom 
There's no doubt about it, the Parisians really know how to create chic interiors to swoon over. But they're just as much about design as they are about lifestyle. They are focused on creating effortless, inviting spaces that are functional as well as beautiful.
This spotlight piece will highlight the origins and characteristics of the Parisian style as well as offering ideas and considerations for anyone dreaming of a Parisian bedroom design.
What is Parisian interior design?
Parisian design hails from the styling of residential apartments in the French capital. Famously high ceilings, tall windows, vintage fireplaces and herringbone oak floors are all common features, as are combinations of vintage furniture juxtaposed with modern fittings and detailing.   
To achieve Parisian bedroom design, however, you don't have to live on the Rive Gauche. There are many ways that you can replicate the look in your own home…
The colour palette
Parisians are quite minimal when it comes to decorating. They certainly believe in the phrase that 'less is more'. There's nothing flashy about Parisian decorating ideas and for the majority of the time, the walls are painted white. This fresh backdrop allows other items in the room to be highlighted, for example the bed, the artwork and the ornaments. Fitted bedroom furniture, such as wardrobes and cabinets, should also be matched to the wall colour to make it discreet and subtle. Opt for finishes that are matte rather than gloss.
When it comes to accent colours for rugs, mirrors, sofas and soft furnishings, jewel-toned shades such as emerald green, sapphire blue or citrine yellow are all great options for this theme. These rich tones match perfectly with the white walls, panelling and herringbone parquet floors.
Vintage items
Paris is blessed with antique furniture stores and markets galore, so many apartments are filled with unique, vintage pieces that are quirky, rare and wonderful. Luckily the UK is improving in this regard too, and there is more choice than ever to shop for Parisian-looking finds.
Check out markets, second-hand shops and online auctions for antique chairs, gilded mirrors, iron bed frames and chaise longues that you can re-purpose in your own bedroom space.  
Nonchalant styling
Nothing ever appears planned or forced in a Parisian styled bedroom. Scattered vintage books, plump cushions, coloured-glass vases and French perfume bottles all contribute to a subtle boho look that seems authentic and natural.
A large rug or selection of rugs will also add warmth on a Parisian-style wooden floor, as well as giving you the extra benefit of dampening noise from below. 
Golden mirrors
Parisian apartments regularly feature large hanging mirrors to reflect the light around the room. Whether placed above the bed, above a dresser or over a rustic fireplace, choose an over-sized rectangular mirror with an ornate gold frame.
If you can't find a gold mirror to suit your taste, then you can always re-purpose a wooden vintage mirror using a matte, gold spray paint. There are many helpful DIY guides and YouTube videos that will show you how to do this.
Statement lighting
A common feature of most Parisian apartments is a chandelier. Available in many different styles, they create a beautiful soft light in a bedroom, as well as acting as a focal point of sculptural interest. Choose from crystal, caged, beaded or candelabra chandeliers, as well as a range of light bulbs or candles to suit your personal taste. 
Pendant lighting is a more modern option if a traditional chandelier wouldn't suit your space. Just always remember to opt for gold or black fixtures, rather than chrome or copper alternatives, to capture that true Parisian appeal.
Modern touches
Parisian bedroom design is all about mixing the old with the new. So, once you have selected a few key vintage or period pieces, you can merge these with interesting pieces of modern art, contemporary sculptures or bright cushions and throws.  
Have a play around with what works together, ensuring that you don't go overboard. Keep in the back of your mind that less is more, and ask yourself, what would a true Parisian do?! Oh, and don't forget a huge bouquet of fresh roses placed on your dressing table – this is a signature accessory for any French boudoir.
When it comes to chic Parisian style bedrooms, our team at Hammonds know how to create them. Whether you are looking for new storage options or help with how best to lay out your new space, our experts are ready to answer your questions. Book a free design visit today to begin your bedroom transformation.
You bring the space, we bring the inspiration
Whether you have an exact vision in tow, or are just at the beginning stage of your home renovation, we have heaps of inspiration for you to get stuck into. 
Find a wealth of design tips, trends and inspiration in the pages of our brochure, magazine and on our blog. Our experts are always ready to help you create dream home, pop in store or book your free design visit for experts to help on bringing your vision to life.