How to feel relaxed at home
|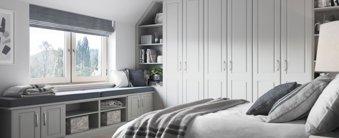 How to feel relaxed at home
After navigating our way through the many changes and challenges of the pandemic, self-care and mindfulness have become more important than ever.
Our homes are our sanctuaries where we should feel restful and at ease. Yet it isn't just our lifestyles that affect our mental state – homes also play an important role in how we feel on daily basis due to how much time we spend within them.
In this article, we share some top tips on how to feel relaxed at home, exploring different ways in which our surroundings can bring a sense of calm to our lives.
Opt for calming colours  
Countless studies suggest that colours can have a direct effect on our emotions, which is why it's important to take this into account when considering our home décor.
Dated colours that no longer excite us can have a lasting effect on how we feel. If you feel like this might be the case in your household, why not mix things up a little?
There's no better time than the beginning of a new year to give your rooms a new lease of life with a splash of paint. Choosing calming colours, such as blues, greens and whites, will help lift your mood and bring an overall sense of tranquillity to your surroundings.
Let in lots of natural light 
Our bodies need natural light and fresh air to function at their best. This becomes especially important when working from home during the day.
But what's the best way to tackle this? We understand that not every home benefits from streams of natural light, so it's about making what improvements are accessible to you and your setup.
If possible, placing your desk by a window will significantly help – and make the lighting much better for those endless Teams calls! Alongside this, clearing windowsills so they're free from any blockages will also provide a boost.
Be sure to draw your curtains back and pull your blinds right the way to the top so you're making full use of your window. This allows a little more natural light to flood your home, which is sure to brighten up your mood as well as your rooms.
Reduce clutter
Research shows there is a link between clutter and increased stress levels. If you're wondering how to feel more relaxed at home and want some quick relief, try removing clutter from various rooms. This can decrease anxiety related to your surroundings and bring you peace of mind knowing that rooms are no longer full of unnecessary items.
The best way to organise the possessions you do want to hold on to is by installing fitted storage. Not only does this remove visual clutter but it also creates much more space within your home. Whether you wish to revamp your lounge with fitted living room furniture or make the use of smaller spaces with under stairs wardrobes, there are endless ways to utilise different areas around your home.
Organise your home office
Just as clutter within the wider home can affect your mental state, so can a messy workspace. If you have pens and papers and cups of coffee surrounding you at your desk, before long this will start to overcrowd your mind too. Remember, a clear desk equals a clear head.
For many of us, remote working has become part of our new routine, with huge numbers of companies opting for hybrid contracts. Some businesses even have fully remote staff members, as the pandemic has changed the way we perceive working habits forever.
If increased time working from home makes you want to improve your current setup, why not consider getting a built-in home office? This will help to give you an established working environment with plenty of storage for all of your essentials, such as shelving for neatly filing folders and drawers for storing notepads and stationery.
Visit Hammonds for more tips on how to feel relaxed at home
For further inspiration and advice about how to feel more relaxed at home with the help of fitted furniture, book a free Hammonds design visit. 
Our expert designers will be more than happy to talk through your storage needs and help you find the perfect solution for your home.
You bring the space, we bring the inspiration
Whether you have an exact vision in tow, or are just at the beginning stage of your home renovation, we have heaps of inspiration for you to get stuck into. 
Find a wealth of design tips, trends and inspiration in the pages of our brochure, magazine and on our blog. Our experts are always ready to help you create dream home, pop in store or book your free design visit for experts to help on bringing your vision to life.