How to make your hallway look bigger
| Inspiration, Hallway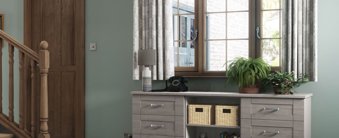 How to make your hallway look bigger
Whether it's the entrance to your home or a link between rooms upstairs, hallways can feel cramped when space is at a premium.
Changing the structure of a hallway might be difficult, so cosmetic alterations are favourable over structural ones. Creating the illusion of space will help your hallway go from cramped and dark to roomy and light in no time. This blog offers practical tips on how to make your hallway look bigger.
Declutter
Often an entrance hall is used as a dumping ground for shoes, bags and coats as people venture in and out of your home.
However, even if you use your hallway to store these items using coat hooks or shoe-racks, this can still result in your hallway feeling small. To make your hallway look bigger, reducing the number of belongings stored in this space will make an instant change.
So, why not utilise the space under your stairs and build integrated cupboards designed especially for your needs. Incorporate drawers, shelves, or cupboards into your design and fit them to the dimensions of your understairs space.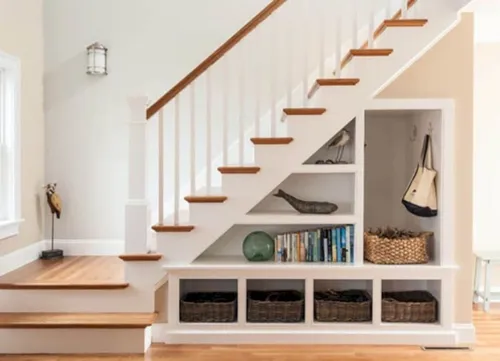 Not only does this give you purposeful storage space but, it instantly creates room in your hallway to make it look and feel bigger. 
Hang a mirror 
Mirrors are a stylish way to add light and the illusion of space to your hallway. By reflecting the light in your hallway, a mirror will brighten up its surroundings, making it look lighter and bigger.
If you have a narrow hallway, use a horizontal mirror to make it appear wider. Alternatively, if your hallway has low ceilings, hang a vertical mirror to give it the illusion of more height. If you want to make your mirror a design feature, consider a mosaic mirror or one with a bold frame to enrich the style of your space. 
Decorate walls in light colours 
When researching how to make your hallway look bigger a recurring idea will always be to paint your walls in a light colour. Brighter colours will help reflect the light, making your space appear bigger.
Steer clear of brash tones and opt for neutral ones that fall somewhere on the white spectrum.
As well as this, it is advised that you avoid feature walls within smaller hallways. Yes, they add vibrancy and character but if you want to create the illusion of more space, they are ineffective.
Be tactical with flooring
As hallways often receive the most foot traffic, choosing a hardwearing floor is your best option.
However, if your hallway is on the smaller side, ensuring you have a floor that will help enhance your space rather than reduce it is essential. Light flooring is great as, similarly to lighter walls, it reflects the light and makes your hallway appear larger.
However, don't be afraid to use dark flooring. The right dark flooring can also make your room appear bigger if partnered with the right cool-toned wall colour. 
The pattern and order in which you place your flooring are important for enhancing your space.
If you opt for a hardwood floor, choosing wider planks over narrow strips of wood is your best choice. The theory behind this is that bigger components will mean fewer seams in the floor, therefore making it look less busy. If your floor isn't as busy, then your space will feel more open.
If you wish to tile your floor, the same theory applies. Choose larger tiles to open up your space. 
Get the lighting right
Getting the lighting right in your hallway is essential. The darker the hallway, the more confined your space will look.
However, if you are tight for space, choosing lights that will help enhance space rather than reduce it is important.
If your hallway has a low ceiling, stay away from pendant lighting. They can bring the ceiling down and make your space feel cramped. The same goes for a spotlight. Having one light in the centre of your hallway creates a single pool of light, ineffective for lighting your whole space.
Instead, try spotlights that are scattered across your ceiling, specifically in the corners. By lighting the corners of your room, you will spread the focus and make it appear bigger.
Alternatively, if you have a larger area to play with, then try tastefully placed statement lamps or pendant lights – adding character to your space.
We can help breathe new life into your hallway
If any of these ideas have caught your attention, you can book a free design visit with Hammonds.
Our team of experts are on hand to give your advice on how to make your hallway look bigger. Contact us to see how we can help you today. 
You bring the space, we bring the inspiration
Whether you have an exact vision in tow, or are just at the beginning stage of your home renovation, we have heaps of inspiration for you to get stuck into. 
Find a wealth of design tips, trends and inspiration in the pages of our brochure, magazine and on our blog. Our experts are always ready to help you create dream home, pop in store or book your free design visit for experts to help on bringing your vision to life.