How to transform a small bedroom into a relaxing sanctuary
| Bedroom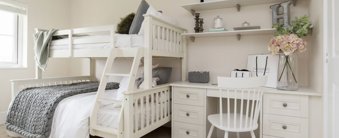 How to transform a small bedroom into a relaxing sanctuary
Small bedrooms can be big on character. If you don't have the luxury of large areas of floor space, it doesn't matter. You can still create a gorgeous, relaxing sanctuary with a bit of careful planning. If you need ideas for small bedrooms, read on for our guide.
Keep colours muted
However large or small your space, if you're trying to evoke a relaxing feeling then it's best to keep your colour scheme soft and muted. We don't mean white, necessarily – more soft greys, stone and even some warm pinks can work well.
Incorporating too many different colours on the walls can make the space feel chaotic, so maybe leave it for the accessories if your instinct is for brightness.
Maximise natural light
When it comes to relaxing small bedroom ideas, one of the best is to make the most of any natural light available. One easy way to do this is by minimising the effect of any blinds, shutters or curtains by choosing some that sit outside of the frame of your window. That means that when they are drawn, the whole window is available to let the light stream in rather than being covered in any way. Shutters are a no-no because they cover up so much of the light.
You could also think about positioning a mirror opposite the window, which can bounce the light back and create the illusion that you might just have two windows! Gloss surfaces can have a similar effect, so bear that in mind when you're choosing furniture.
Keep clutter to a minimum
If space is at a premium, consider adding floor-to-ceiling storage units to help keep clutter out of sight. Our fitted wardrobes are designed to fit in any space, whatever the quirky angles. Our contemporary fitted wardrobes like Avon and Elkin work well in small spaces as they have clean lines and flat surfaces to bounce the light around. With room for hanging rails, folded clothes and accessory drawers or shoe storage if you choose, there's no excuse for having an untidy room.
You could incorporate some smaller-scale storage too. Baskets can hold a lot of smaller things like toiletries and they don't take up any precious floor space if you hang them on hooks. An ottoman bed also offers serious amounts of storage, perfect for hiding away bulky items like suitcases or sports equipment, leaving you with the ultimate streamlined and tidy room.
Use mirrors
Every interior designer's best friend – mirrors add a sense of space and light, as well as make a design statement. Bigger is generally better, so if you have space for a floor-standing mirror to lean against a wall, go for it – it can look very chic French.
You could go vintage for a touch of old elegance or keep it simple with a slim, round frame. Whichever you go for, it's a must for any space that is slightly on the petite side.
Consider a feature wall
Relaxing bedroom ideas for small rooms depend on the shape of the space. For example, if you have a narrow, corridor-like space, feature walls can work wonders. Using a dark colour on the far wall can play with the sense of proportions to make it feel closer, and thus less like a corridor. If you want to go for a pattern, try putting it on the wall behind your headboard to break it up a bit.
Consider a ghost chair
When it comes to furniture and accessories, you have to be thoughtful when space is tight. Try to limit what you buy so you don't end up filling the room with unnecessary things. Go for slimline, elegant furniture and keep as much of the floor on show as possible.
If you want to make a design statement, why not consider investing in a ghost chair? Not only are they super-chic, but ghost chairs are so minimal that you'll barely notice them. Just don't be tempted to pile your clothes on top of it.
Hammonds can help with your storage
For help and advice to transform your small bedroom into a relaxing and luxurious space, book a visit from one of our designers. They will talk through your options, offer some solutions, and create a computerised design so you can visualise exactly what you're getting.
You bring the space, we bring the inspiration
Whether you have an exact vision in tow, or are just at the beginning stage of your home renovation, we have heaps of inspiration for you to get stuck into. 
Find a wealth of design tips, trends and inspiration in the pages of our brochure, magazine and on our blog. Our experts are always ready to help you create dream home, pop in store or book your free design visit for experts to help on bringing your vision to life.