Hygge-inspired bedroom
| Bedroom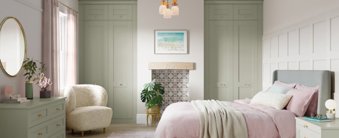 How to create a hygge-inspired bedroom
Your bedroom space should be a place of comfort and relaxation – and there's really no better style to adopt to achieve that than a hygge theme. In this article, we're here to dispense all the advice and inspiration that you need to can transform your bedroom into haven of hygge goodness!
What is hygge?
Hygge is a Danish concept (pronounced 'hoo-gah') which is deeply ingrained in the country's culture and identity. The most common translation of the word in the UK is 'cosiness' but the true meaning of the word is much deeper than just that. Real hygge is about contentment, security, happiness and kinship. It's a powerful concept that has become increasingly popular across the world as more and more households try to capture that feeling.
How to hygge your bedroom
The interior design of your bedroom offers tremendous scope to incorporate hygge. Try out some of the below hygge bedroom design ideas to create the ultimate Scandinavian-inspired sanctuary.
Choose a neutral colour palette
The best hygge bedroom designs stick to a neutral palette, free from bright colours or loud patterns. Neutral base colours like whites, beiges and soft greys are great for creating a bedroom backdrop on walls and ceilings, and these colours are also shown to be conducive to tranquillity and restful sleep. Hygge colours are very earthy and natural; you can gently incorporate green into your space using houseplants and wild floral displays.
Add texture with cosy blankets
Comfort is high on the agenda in a hygge bedroom, so stock up on plenty of layers in different textures and fabrics. Natural fibres work best for a Scandi vibe, so opt for soft cottons, linens and wool to immediately increase your snuggle factor. Sheepskin rugs and chunky velvet bed throws are also great accessories that will never date or go out of fashion.
Choose your lighting wisely
A hygge bedroom design captures a perfectly contented ambiance, so stark blue lighting is not welcome in this space! Instead opt for warmer LEDs with a dimmer switch so that you can lower the lighting to create the right mood. Diversifying with plenty of smaller, additional lighting options such as fairy lights, candles and pendant lighting will also help to add an extra layer of warmth to your room.
Choose rustic furniture
Rich, natural materials are the epitome of hygge so, when it comes to furniture, opt for sturdy wooden furniture that is handcrafted and built to last. Fitted bedroom wardrobes offer a great option for lovers of the hygge trend and not only do they come in a multitude of different paint colours and finishes to suit the look but they also provide amazing storage to keep clutter to a minimum – just as it should be in a Scandi-style living space.
Add rugs for cosiness underfoot
Rugs provide great comfort underfoot, especially if you have chosen a wooden flooring design in your bedroom. Place a thick-pile rug underneath your bed with enough room at each side so that every day you can step out of bed and onto a cosy surface without your feet feeling cold. Slippers and thick socks are also a big part of the hygge outfit, so make sure that a pair of each are always close to hand when you wake up!
Install a fireplace
Adding a fireplace to your bedroom will not only provide warmth on colder evenings but also give an ambience of cosiness and romance. Just imagine the sounds of the crackling fire and the flickers of glowing light as you snuggle under the covers on a rainy weekend afternoon. If a real fire is out of the question in your room, then you can always recreate the look with some wooden wick candles, which will offer some of the same benefits but on a smaller scale.
We hope that you've picked up some great inspiration for your forthcoming interior project. If you'd like to speak to one of our Hammonds team members about ways to maximise storage potential in your hygge bedroom, then we'd be thrilled to book you in for a free design visit to discuss all the ways in which we can make it possible.
You bring the space, we bring the inspiration
Whether you have an exact vision in tow, or are just at the beginning stage of your home renovation, we have heaps of inspiration for you to get stuck into. 
Find a wealth of design tips, trends and inspiration in the pages of our brochure, magazine and on our blog. Our experts are always ready to help you create dream home, pop in store or book your free design visit for experts to help on bringing your vision to life.