Master bedroom colour ideas for a restful night's sleep
| Bedroom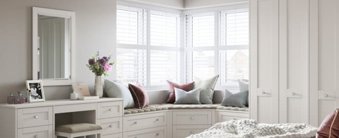 Master bedroom colour ideas for a restful night's sleep
For as long as humans have been working with colours, we've associated them with all sorts of different moods and atmospheres. Colour psychology is a very real thing, and the use of colour in design is a hugely powerful communication tool and one of the most important features in whatever theme you're looking to portray.
When it comes to your master bedroom, then, the colour palette that you choose will play a huge role in how relaxing the space is. We've put together the five master bedroom colour schemes that we think will give your main bedroom the most calming aura possible, so you can look forward to a restful sleep every single night.
Blue
No prizes for guessing this one. No matter how much or little you know about colour psychology, chances are that you'll know that blue is renowned for its calming effects. That's so true, in fact, that an interior colour research piece from 2018 suggested blue to be the most calming colour for the bedroom.
The obvious choice is to go with the cool, light and airy tones of pastel blue but the aforementioned study found dark blue to be the most relaxing option of all, and certainly a good one for seeing you off into a peaceful slumber in a darker room setting.
Green
Thanks to its natural symbolism, green is another restful and quiet colour that will also add a more visually engaging element to your bedroom design. Be careful with your greens, though, as going with too strong a tone could remove those all-important calming effects.
Stick to lighter, pastel tones such as mint and Caribbean green to retain the relaxing aura that you're chasing. Greens can be worked in with a plant theme wallpaper or work nicely alongside natural materials or white and wood furniture.
Green is also said to promote creativity and act as a motivator, which is a bonus if you use your master bedroom as a workspace or similar.
Violet
If you're looking for a halfway point between warmth and coolness, violet is a great choice. The move towards the red side of the colour spectrum brings more of a glow that greens and blues can't provide, but still provides a balance of peace and relaxation with it.
Violet is a great meditation colour and one that can be layered around your bedroom design in different shades via the fabrics and materials that you use. For an airy space, you can use white as a base then introduce hints of violet via key features like your furniture and bedding.
Yellow
Though warmer colours usually convey a sense of energy rather than tranquillity, a yellow-themed room can still create the zen feeling for which you're looking, if you plan it carefully.
Again, stick to light pastel shades to keep things to the calmer side of the colour arena. More vibrant yellows will still promote positive energy, but perhaps a little too lively and energetic for a bedroom environment. Of course, if you want to jump start your morning, the latter might work.
For the relaxing spaces about which we're talking here, however, go for a light yellow that can work well with whites, greys and pastel pinks for a more unique master bedroom colour combination.
Neutrals
Colour isn't for everyone, and that's OK. Particularly if you have a clean, neutral theme running through the rest of your home, plenty can be done with more neutrals to create a relaxing master bedroom.
White and grey minimalism is very effective when it comes to creating a calming atmosphere. Pair clean colours with natural wooden or laminate flooring with some neutral soft furnishings and you have an ideal space in which to unwind.
Our sliding wardrobe colours are centred around neutral tones, meaning that we can help you to find a relaxing neutral scheme, no matter what palette you have in mind.
Find your ideal master bedroom colour combination with us today
With all sorts of master bedroom colour ideas to consider, how about drafting in some expert help?
Book a free design visit with a member of our team today and we'll be able to walk you through all the possibilities for your new master bedroom design, from the perfect palette to the fitted furniture that will make the most of your space.
You bring the space, we bring the inspiration
Whether you have an exact vision in tow, or are just at the beginning stage of your home renovation, we have heaps of inspiration for you to get stuck into. 
Find a wealth of design tips, trends and inspiration in the pages of our brochure, magazine and on our blog. Our experts are always ready to help you create dream home, pop in store or book your free design visit for experts to help on bringing your vision to life.