Narrow hallway decorating and storage ideas
| Hallway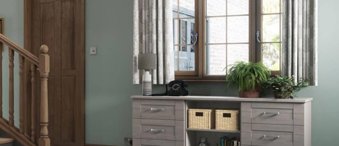 Narrow hallway decorating and storage ideas
A narrow hallway needs some clever design ideas. It's the entrance to your home, so you'll want it to be warm, stylish and welcoming. Yet because it's the entrance, the reality is that it is probably filled with coats, shoes, muddy boots, pushchairs or all of the above.
Luckily, we have some creative narrow hallway ideas that can help you turn one of the most used spaces in your home into an oasis of organised calm.
Storage ideas 
Slim furniture like storage benches and console tables are practical and stylish. They allow you to hide away the small things and can make an awkward area feel like a genuinely usable space. Go for elegant and sleek rather than bulky, and it's hard to go wrong.
When it comes to more meaningful storage ideas for a narrow hallway, making the most of the space under the stairs is key. Fitted wardrobes are a perfect solution. You can make the most of all the space with the right design, from the tallest spot where you can tidy away the pushchair to the tricky lower half that's good for shoes or dog walking paraphernalia.
We can build a space for it all, and we are firm believers that an organised life is a happy one.
Lighting ideas 
We all love natural light, and if you are lucky enough to have it in your hallway then let it stream in wherever possible and enjoy.
If your home is a little on the dark side, though, there is still plenty that you can do. Successful narrow hallway lighting ideas range from unobtrusive recessed lighting to wall sconces in almost every size and style. Then there's the question of pendants or spotlights, and how big should you go if your hallway is a bit on the pokey side?
It's all a question of taste, but the general rules are that smaller, soft lights like sconces or tables lamps can create a cosy and welcoming feeling. They are also the most cost-effective.
But if you like a bit of drama then don't be afraid of adding a large pendant. Sometimes going big and bold can pay off in a small space.
Colour scheme ideas
Neutral shades such as white, cream and beige help make a hallway feel bright and airy, and wipe-clean paints have made these tones a lot more practical than they used to be.
If you want something a bit different, though, there are some clever colour ideas for narrow hallways that can play with the sense of space and light. If your corridor is especially long, consider painting the far wall a darker colour to draw it closer. Or perhaps paint the bottom half of the wall a deeper shade than the top to add interest and disguise some of the inevitable scuffs and marks of daily life.
Décor ideas
Mirrors are brilliant for bouncing light around and making a small space feel brighter. A piece of artwork can also make an immediate impact and give visitors a real sense of your style – framed posters can be a cost-effective way of doing this. You could even frame some of your children's paintings.
Most importantly, don't be fearful of a small or narrow hallway, as decorating ideas can still make the space playful and personal. Consider a gallery wall hung at eye level – family photos will make a small area feel really welcoming and can add a genuine sense of fun and warmth.
Flooring ideas
Narrow hallway flooring ideas are generally best kept simple. Keep floor space as clear as possible. Leaving and entering your house should not feel like an obstacle course, so tuck your shoes away in fitted cupboards and keep bags up on hooks.
Wood and tiled floors are easy to keep clean. Even if you have brighter shades such as white or light-coloured wood, any mud or mess can be quickly mopped up. If you want to soften a hard floor, then a runner can make a hallway feel much cosier underfoot and it is also a great way to include some brighter colours or patterns.
Make the most of your narrow hallway with Hammonds
For more inspiration and advice about how to harness the potential of your narrow hallway, book a visit from one of our expert designers.
We can discuss your storage needs, taste and budget, show you samples and create 3D CAD drawings to help you visualise how everything will look. All our designers will wear the relevant PPE and adhere to social distancing and hygiene guidelines when in your home.
You bring the space, we bring the inspiration
Whether you have an exact vision in tow, or are just at the beginning stage of your home renovation, we have heaps of inspiration for you to get stuck into. 
Find a wealth of design tips, trends and inspiration in the pages of our brochure, magazine and on our blog. Our experts are always ready to help you create dream home, pop in store or book your free design visit for experts to help on bringing your vision to life.