Neutral bedroom design ideas
| Bedroom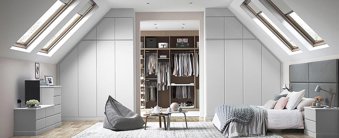 Neutral bedroom design: How to create a calming space for sleep
Your bedroom should be a safe haven – a place where you can retreat after a long day to feel relaxed and calm. It should also be a space that promotes great sleep, bearing in mind that gaining a good 7-9 hours is vital to our day-to-day health and wellbeing.
When it comes to the interior design of your bedroom, it's worth considering what elements will help you achieve the most relaxing environment. So, we have highlighted the ways a neutral bedroom theme can help contribute to a peaceful slumber, night after night.
What is neutral bedroom design?
A neutral bedroom design focuses on using minimal tones and a simplistic design. Colour schemes are muted, staying well clear of brights and loud patterns that are thought to stimulate the mind instead of letting it wind down. There is also an emphasis on functionality when it comes to furniture, with minimal fuss or clutter.
Neutral bedroom design ideas are becoming increasingly popular as more of us yearn to gain that important balance of calm to improve our mental health. So, it's time to pick out the paint samples in shades of beige, cream and brown, and begin to scale things back.
How to create a neutral bedroom design
Layer in textures
Although your colour scheme will be pared back and simple, you can still make your bedroom cosy and inviting using a range of textures and layers. Natural fabrics will tie in very well with the theme, as well as contribute to making your bedroom more sustainable, so opt for cottons mixed with linen, wool and silk to achieve a sumptuous, layered look.
Use metallic accents
In addition to textured soft furnishings, you can add further visual interest with the use of metallic accents. Rather than using brights or primary colours, incorporating gold, bronze, chrome and brass accessories and fittings will blend effortlessly with the neutral colour palette and add a sophisticated and contemporary edge. Whether you opt for aged-brass lighting or rose-gold plug sockets, you'll be adding a subtle yet stylish dimension to your neutral scheme.
Use wooden accents
Wooden accents add texture, warmth and interest to any space. By using wood as part of your neutral bedroom design, you are naturally creating a welcoming and cosy space.
Wooden floors are durable, hygienic and timeless in style. Although the investment cost might be a little higher than standard carpet flooring, you will reap the benefits for years to come. Be sure to layer your wooden floors with plenty of rugs to provide comfort underfoot as you get out of bed and move around your room. Opting for wooden furniture will also add further depth to your room.
Bespoke fitted wardrobes would be a perfect choice in a neutral bedroom as they are fully customisable, enabling you to select a shade and finish to blend with your colour scheme. Fitted storage also means that you will have plenty of space to store your bedroom essentials, ensuring that the rest of your room remains clean, decluttered and minimal.
Add splashes of colour
Although the key to a neutral bedroom scheme is keeping colours soft and quiet, you can introduce a little colour using houseplants and artwork.
Houseplants not only enhance your mood and reduce your stress levels, but the splashes of green will also work wonderfully against the neutral palette and wooden textures.
When it comes to selecting artwork and prints, take your time to research pieces that fit your tranquil vibe and ensure that each piece you pick fills you with joy and comfort.
Create interest with shapes and patterns
The most successful neutral bedroom design ideas use additional shapes and patterns to enhance the overall vision of the space.
Although your bedroom should be functional and minimal, it can also be curated and interesting, so don't scrimp on the details. Whether you choose quirky, embroidered cushions or unusual bedside tables, you'll create a much more intriguing interior by varying the use of shape and pattern.
To go the extra mile, you can also experiment with patterns on fabrics such as blinds or bed linen. Whether it's stripes, spots or floral patterns you prefer, just remember to keep the colours strictly neutral.
Get help with your neutral bedroom design ideas from Hammonds
The benefits of adopting a neutral bedroom design are clear to see, and Hammonds has many shades and finishes that would blend in perfectly with this concept.
Book a free design visit today with one of our experts to discover our range of neutral fitted furniture options.
You bring the space, we bring the inspiration
Whether you have an exact vision in tow, or are just at the beginning stage of your home renovation, we have heaps of inspiration for you to get stuck into. 
Find a wealth of design tips, trends and inspiration in the pages of our brochure, magazine and on our blog. Our experts are always ready to help you create dream home, pop in store or book your free design visit for experts to help on bringing your vision to life.