Practical linen storage ideas for you to try
| Bedroom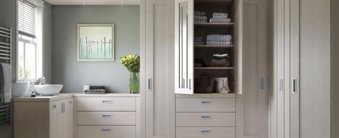 Practical linen storage ideas for you to try
If your clean bed linen is folded away and your pillowcases match your duvet, it feels like you have life under some sort of control. Being organised might not sound rock and roll, but the feeling that you know where things are can make a huge difference to your sense of calm and order. Plus, we all know that there is no better route to a great night's sleep and a super cosy bedroom than fresh, clean bedding.
Here's our go-to guide for linen cupboard storage, with ideas on how to keep it organised and smelling fresh
Use dual-purpose seating
If you have the space, it's a great idea to keep your linens in your bedroom. It means they're always nearby and frees up space in the rest of your home. A bench at the end of your bed not only looks super stylish but can also offer a useful storage solution if it has space inside.
Before you go filling it up, though, use this opportunity to go through and streamline your bedding. Get rid of any odd pillowcases or tired old sheets and try to build two full sets of bedding so you can alternate.
Add some baskets
Thanks to those vintage French linens – the ones neatly folded in chic baskets that look fresh, clean, and inviting – having your bedding on show has become quite stylish. Choose a basket that fits neatly into your room, perhaps on top of a cupboard or in a corner, and line it with some scented paper to keep everything smelling fresh – you can get some liners that smell of freshly washed cotton.
This 'on show' look only really works when you have a matching bedding set and it's folded (ideally ironed too). If you want to add some towels in there then try to make sure they are in a similar colour and roll them rather than folding them to keep the edges and corners tidy.
Use a hamper
If you prefer to keep your bedding covered up and you happen to have an old picnic hamper, these can make great linen baskets and help achieve that boho/farmhouse look.
The best linen storage ideas incorporate breathable baskets or boxes where a bit of air can flow through to keep it fresh. Pretty wicker washing baskets can also work well, and they're just as good for clean linens as they are for hiding away your dirties. Just don't get them mixed up!
Make use of drawers
If you have a spare drawer or two going, you could use those for your linens. Rolling your towels can keep them neat and enable you to make the best use of space. You could also use drawer dividers or small baskets to keep your smaller washcloths separate.
If you're wondering how to keep linens fresh in storage, using drawer liners or linen spray can work well. Lavender bags also smell beautiful.
Use the space under your bed
We love under-the-bed storage because it's hidden, tidy and usually has large amounts of space on offer. Roll-out boxes work well here, but you could also use vacuum bags if space is at a premium in your home. These are a great way to store large duvet covers and even spare duvets without having them take up too much space.
Get bespoke storage
Of course, bespoke fitted storage is the best option because it can be designed exactly to fit your needs.
Our fitted wardrobes come in a variety of styles, from the simple, contemporary lines of Linje and Avon to classic panelled doors like Harpsden. There's always something to suit your style. You could have it designed to include shelves or drawers just for your linens too.
Let Hammonds provide you with expert advice
For help and advice about fitted storage in your home, book a free design visit from one of your experts today.
You bring the space, we bring the inspiration
Whether you have an exact vision in tow, or are just at the beginning stage of your home renovation, we have heaps of inspiration for you to get stuck into. 
Find a wealth of design tips, trends and inspiration in the pages of our brochure, magazine and on our blog. Our experts are always ready to help you create dream home, pop in store or book your free design visit for experts to help on bringing your vision to life.