Twin bedroom furniture and décor ideas
| Bedroom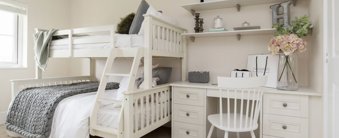 Twin bedroom design ideas for kids' rooms
If you're planning on moving your children into a shared bedroom, you might be wondering where to start. After all, there's a lot to consider, from where to put the beds to how you'll match up their different personalities. In fact, how you decide to decorate the space can play a huge part in how the siblings interact with each other.
To help you work out how to create a twin bedroom that works for your kids, here are some décor and design ideas to inspire you.
Divide equally
A good starting point when looking at designing twin bedrooms is to work out exactly how much space you have. By knowing the dimensions of the room, you will be able to establish how the bedroom can be set out.
But before you get into the logistics of where the beds will go and which wall is the best place for the wardrobes, it's worth thinking about how to share out the space. While sharing a bedroom with a sibling can be great fun, there's the risk of resentment if one person has more space in the bedroom than the other.
It's important, therefore, that you treat your children equally when it comes to how much room they'll have. Dividing it equally means that you are reducing the likelihood of any arguments – plus, you're keeping everything fair.
You might want to then let the kids choose between them which half of the bedroom is theirs, so that they get to have some control over the move into a shared space.
Use fitted furniture
Kids create clutter. From the piles of washing to the stacks of toys, there's a lot of stuff that kids play with and use every day. All of these bits and pieces need a home, so you might want to consider your storage options when planning out the space.
By introducing fitted furniture to the twin bedroom, you can keep everything tidy and free up the floor for the kids to use as an area for play. Shelves and bookcases are ideal for storing toys and other precious items, while fitted wardrobes can neatly slot into any space and keep clothes tucked away.
Beds are key
The dimensions of the room will dictate to you whether you have the space for two single beds or bunk beds.
If there's space for two single beds, it can add an element of symmetry to the bedroom if you lay them out side-by-side and vertically. This is a classic design for a twin bedroom and these two single beds can make it easy to divide the space between your children.
If space is at a premium or you want to maximise floor space, bunk beds are a great alternative. These can be a fun addition to the room and, if your kids can't decide who gets the top bunk, you could let them take it in turns to swap beds.
Calming colours
While your children might campaign for bold and bright colours, keeping things neutral can be the best way to help them relax and unwind. It can also avoid any arguments about whether the walls should be blue or yellow.
Instead, you can opt for soothing shades that can settle them down at bedtime and avoid sensory overload triggered by vibrant tones. One of the trending neutral colours for 2023 is wheat field, which is a warm tone that is infused with yellows and golds to make a space feel cosy and inviting – perfect for a bedroom.
Individual tastes
Once you have your neutral palette in place, you might find that the rest of your twin bedroom décor is dictated by your kids. After all, they are individuals and will have their own tastes so, while one might be a Paw Patrol fan, the other might prefer Bluey.
As you've given them half of the room each, you might want to add elements that reflect their personalities. Bedding adorned with their favourite characters or bedside lamps in their favourite colours can be the perfect way to add their own stamp on the room.
By introducing tiny details like this, it can be easy to swap these out as your kids' tastes change.
Design your ideal twin bedroom with Hammonds
When bringing two children into the same bedroom space, managing mess is vital to ensuring that both feel that they have enough room to be themselves.
If you need a helping hand with decluttering the space and adding the perfect twin bedroom furniture, we can help. Book a free design visit with our team of experts today to find out how we can make your kids' shared bedroom come to life, examining the room with which you're working and identifying ways to make the most of it.
You bring the space, we bring the inspiration
Whether you have an exact vision in tow, or are just at the beginning stage of your home renovation, we have heaps of inspiration for you to get stuck into. 
Find a wealth of design tips, trends and inspiration in the pages of our brochure, magazine and on our blog. Our experts are always ready to help you create dream home, pop in store or book your free design visit for experts to help on bringing your vision to life.