What to do with the space under your stairs
| Inspiration, Storage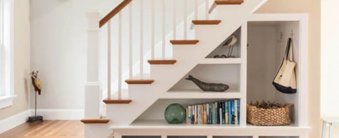 What to do with the space under your stairs
Dead space under the stairs is a common issue for homeowners, but many of us let it go to waste.
However big or small your space may be, there are many options to help enhance your under stairs space and create something functional. Whether you need storage, seating or want to make a fun space, we have the ideas for you. For design ideas on how to use space under the stairs, look no further. 
Integrated cupboard space
No matter how much storage you have in your home, there will always be room for more. Coats, bags, shoes and other daily essentials often get flung across sofas, hung on bannisters, or left on kitchen chairs. This contributes to your house looking messy.
Despite the irritation this causes, you may not have enough functional space to give these items a home. This is where integrated wardrobe and cupboard space comes in.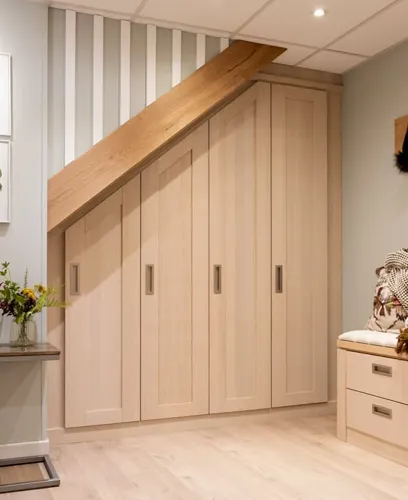 Depending on how much space you have, install fitted enclosed cupboards. Here you can store your belongings in a discrete and organised manner, helping reduce unwanted clutter in your home.
If you have a little extra space, place your utility appliances under your stairs. Subsequently, this gives you more kitchen space and keeps your appliances neatly hidden. 
Extra seating 
If you feel like a haven of comfort and relaxation would be a welcome addition to your home, then why not transform the space under your stairs into a cushioned seating area?
Install a bench, add some soft furnishings, and even build integrated shelving to store any books or magazines. Continue your chosen colour scheme by incorporating it into your seat cushions.
These design ideas are an opportunity to add stylish yet functional space to any room. 
A home office 
With home working and home schooling becoming increasingly necessary and preferential, there is a need for a dedicated home office space. If you don't have a spare room to use, transform the space under your stairs into a home office.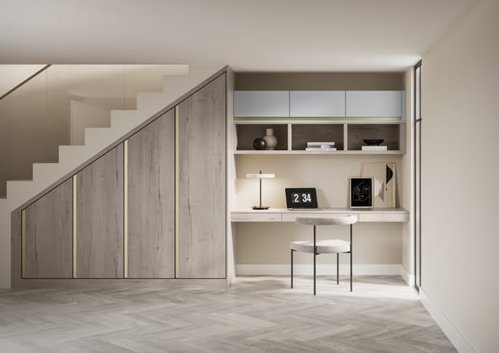 Depending on the depth of space under your stairs, you might integrate a desk and some shelving to help store your documents. Then all you need is an office chair or stool and you're all set. 
A pantry 
Often, kitchens are places that we feel could always benefit from extra storage. Bulky pans and cereal boxes take up so much space in our kitchen, making it feel cluttered and unorganised.
Therefore, if you were wondering how to use the space under your stairs, why not turn it into a pantry. Store non-perishable goods like cans or bottled drinks or even house bulky appliances like slow cookers or juicers.
Not only does this create an organised and functional understairs space but, it also frees up storage in your kitchen, giving you the freedom to reorganise your cupboards in an orderly fashion.   
A fitted bookcase 
If you're a bookworm and sit daydreaming about how to use the space under your stairs, then why not turn your understairs space into bookshelves? Adding a custom-made bookshelf creates a neat space to store all your favourite reads in one place.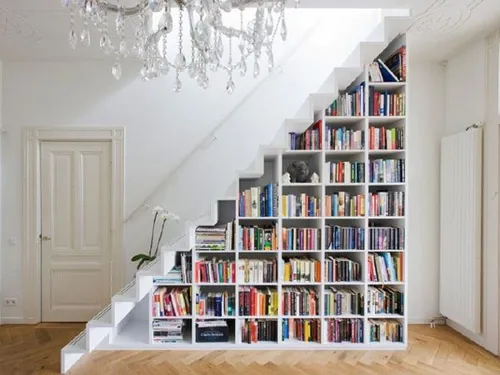 By choosing an integrated bookcase, you then free up space elsewhere in your home by eliminating the need for a standalone option. Not only this, but you can decorate your shelves with picture frames or ornaments to help incorporate your fitted bookcase into the style of your home. 
A pet den 
Pamper your pet and treat them to a little spot of heaven. Dogs and cats love having a cosy space to retire to during the day, so instead of having their beds on the floor of your kitchen, create an integrated pet den just for them.
Include a bed for them to sleep in, space for their water, foods bowls or even storage for their toys. Creating a pet den is not only a gorgeous treat for your four-legged friend, but it also frees up space in your home and minimises the mess caused by food and water bowls – a win-win situation. 
Transform your understairs space
If any of these ideas have caught your attention or have another idea for your understairs space you can book a free design visit with Hammonds.
Our team of experts are on hand to advise how to maximise the space under the stairs. Contact us to see how we can help you today. 
You bring the space, we bring the inspiration
Whether you have an exact vision in tow, or are just at the beginning stage of your home renovation, we have heaps of inspiration for you to get stuck into. 
Find a wealth of design tips, trends and inspiration in the pages of our brochure, magazine and on our blog. Our experts are always ready to help you create dream home, pop in store or book your free design visit for experts to help on bringing your vision to life.