Painted Home Office Furniture
Build the workspace you've always dreamt of when you choose from our painted home office furniture collection. There are so many colours available, so you can easily have the creative, soothing sanctuary you've always wanted to work in when you browse the options available at Hammonds.
Transform the space
The right colour has a huge impact on a space. Neutral tones offer a light, airy feel, creating the illusion of space. Darker painted home office furniture can be the contrast you need, making a statement and adding sleekness to the room.
Perhaps you're planning to design the room around your office furniture setup. Maybe you want the furniture to complement the wall colour or wallpaper design? Whatever your approach, there's sure to be a colour here that works for you in your home office.
Practicality and style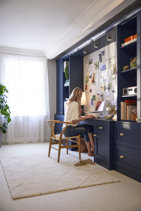 Need Inspiration?
Refine your vision for your home office by booking a free design visit and source further inspiration from our magazine, free brochure or blog.