Fitted Wardrobes Care Guide
| Bedroom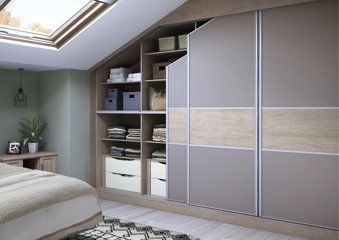 Fitted Wardrobes Care Guide
Wardrobes are a great investment for your home and taking care of your fitted furniture should be something you factor into your diary every now and then. 
Fitted bedroom furniture not only adds depth and personality to your room, they can also add value. All our fitted wardrobes are made to last and available in timeless styles – so your home will always be on trend. 
The tips and advice below cover any issues you may be dealing with and how you can care and clean your wardrobe. 
Prevent damp in your wardrobes
There is a certain fear around the words 'damp' and 'moisture', especially when it comes to your wardrobe and the fact that all your favourite outfits are housed there.  
Damp in wardrobes is usually caused by condensation and damp clothing. You should never tidy away clothes that haven't fully dried as it introduces moisture into an enclosed space. Not only this, but when damp is mixed with the dark conditions of a closed wardrobe, it can create an ideal breeding space for mould. 
Musty smells in a wardrobe due to limited air circulation is also a common issue. Ventilation in your wardrobe can help improve this. Now and then, why not leave your sliding wardrobe doors open to allow the air to flow through the wardrobe. Sliding wardrobes are great for this, as they won't block your path or make the room look messy.  
Cedar hangers are another great solution that can absorb moisture, giving your clothes a pleasant smell whilst also preventing moths.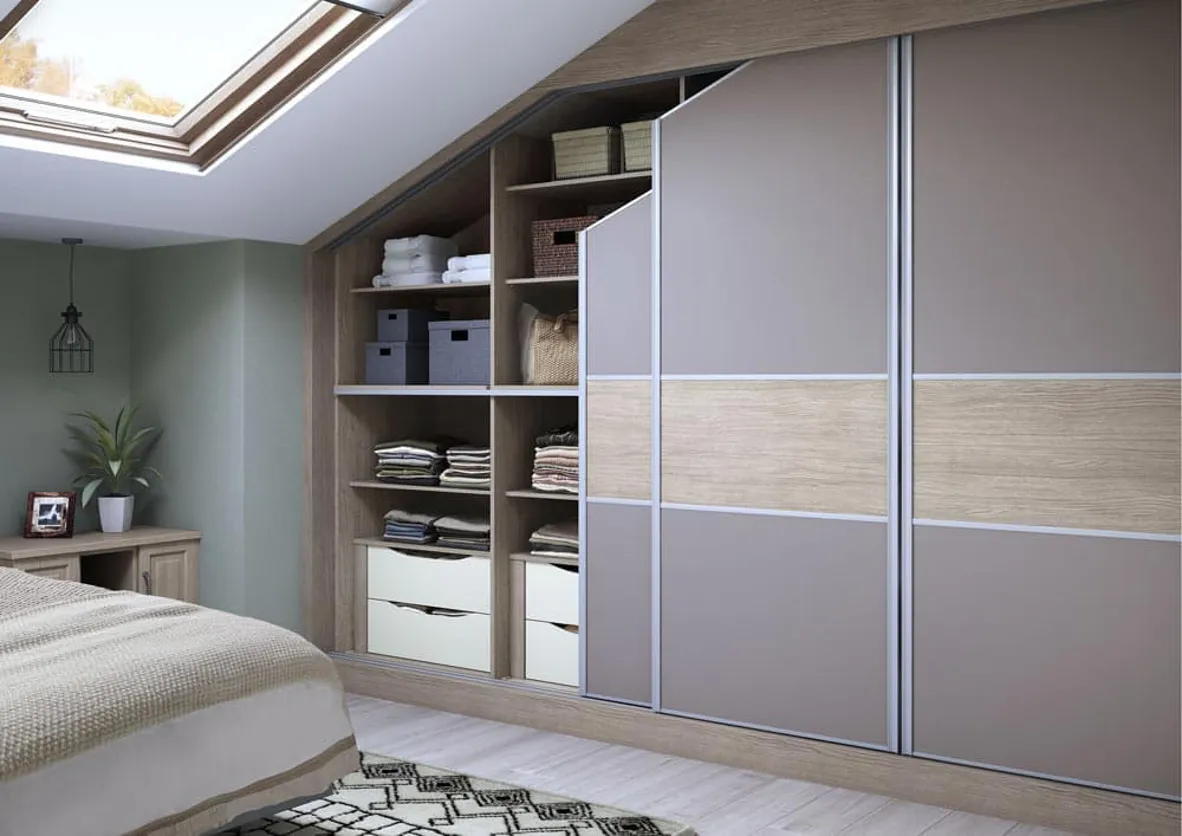 Looking after your wardrobe doors
Wardrobe doors need a little TLC from time to time. 
Sliding wardrobe door panels are a little harder to clean than hinged fitted wardrobe doors. Don't use any chemical based cleaners on your gloss wardrobes, use a splash of vinegar in some warm water instead. The key to a smudge free finish is a micro-fibre cloth.  
Wooden wardrobe doors can get a build-up of dust and dirt, so use a diluted multi-purpose household cleaner to remove any tougher marks.
For painted wardrobe doors, make sure you use a cleaner that isn't going to take off any paint or damage the surface. Aim to dry and polish the doors with a soft cloth as soon as you have wiped them and be careful not to rub too hard. 
Consider wiping down your wardrobe doors every month or so, to keep things squeaky clean.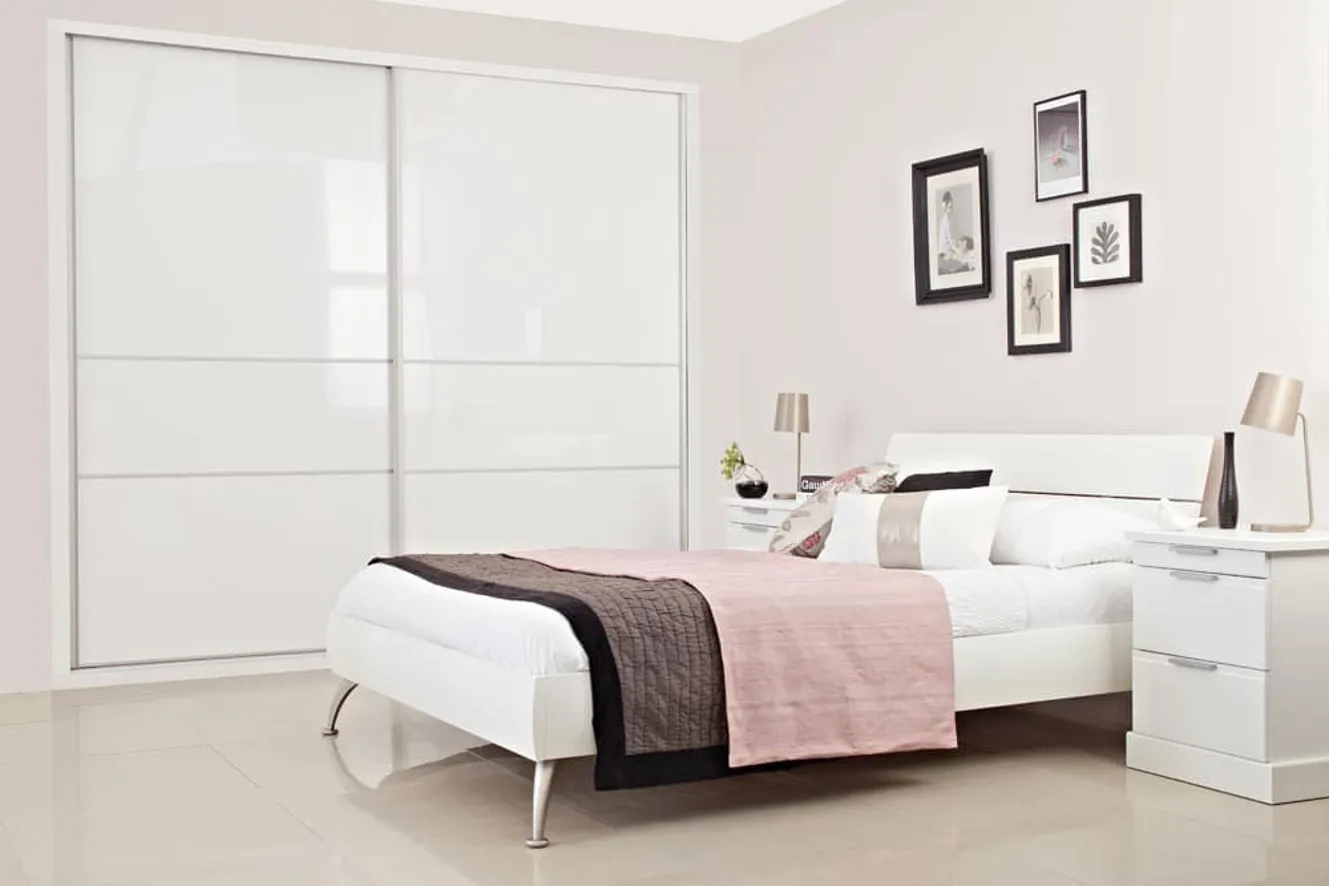 Prevent clothes moths 
Clothes moths can find their way into your wardrobe through many different means. Moths can be found in second hand clothing, they can travel from storage spaces, crawl through small crevices in the wall or even just fly through an open window.  
Moth prevention should be considered with great care in order to maintain great looking clothes. Don't pack your wardrobe too tightly as your clothes need space to breath. Moths are attracted to human oils, which is why you should be careful when storing clothes that have been worn once and put back. Try airing these items outside your wardrobe before putting away in your wardrobe.  
Moths also love natural fibres so store your woollens in boxes or zip lock bags to prevent infestations and deep clean the shelves every so often to disturb their feeding ground. 
To prevent clothes moths, there are products on the market that you can easily store in the back of your wardrobe, or even on your hangers. Try some cedar blocks or lavender scented moth repellent sachets nestled in your wardrobe.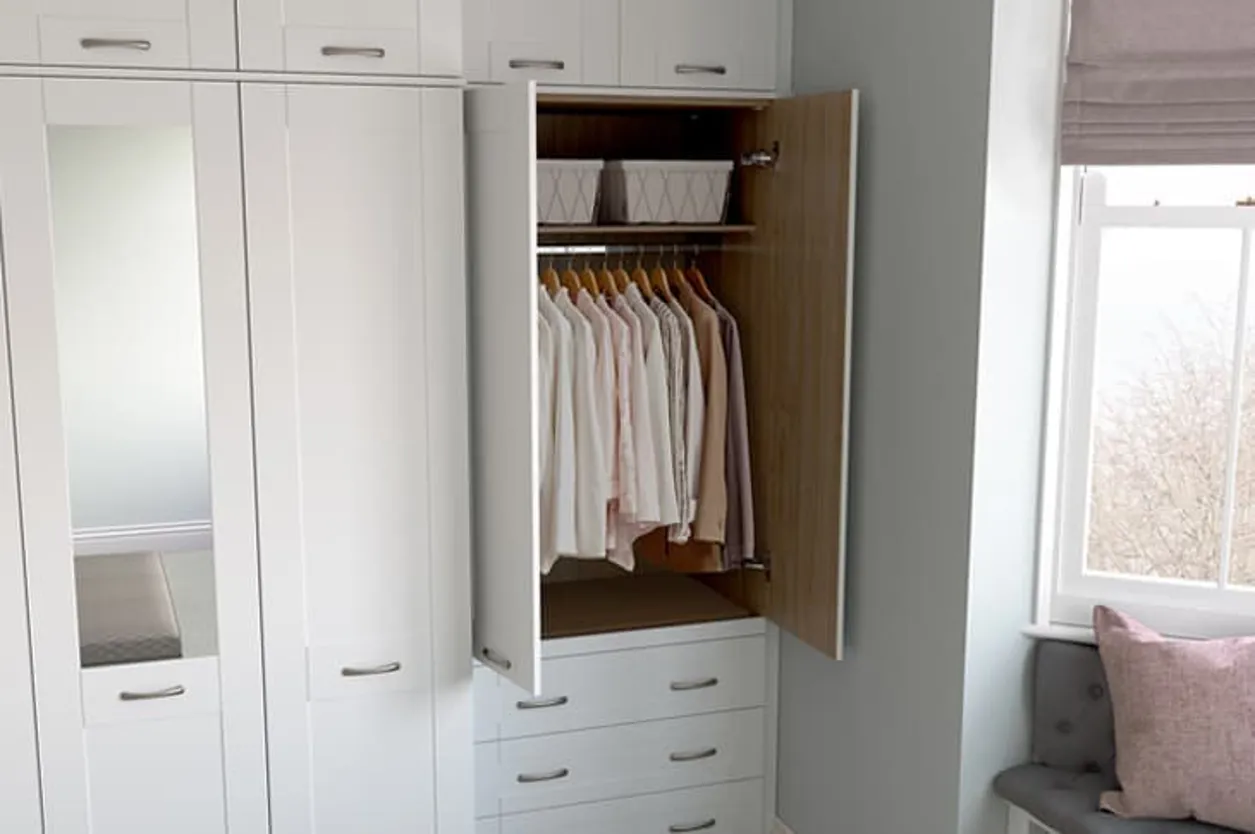 Prevent dust in your wardrobes 
Despite the fact that we rummage through our wardrobes every day, they do gather dust much like everywhere else. You should dust thoroughly with a micro-fibre cloth and then use the nozzle on your vacuum cleaner to remove as much excess dust as possible. Don't forget to dust the interior wardrobe shelves and wipe the wardrobe door handles as they can quickly build up dirt from your daily interaction.
Floor to ceiling wardrobes are a great option as they eliminate the top of the wardrobe which is another potential place for dust to gather. These fitted wardrobes utilise the full space in your room and create extra storage solutions that won't need constantly dusting. 
Another option is a fully lined wardrobe. This wardrobe style will create less dust as the inside of your wardrobe is protected from external dust sources such as your walls or fibres. 
If you have a front framed wardrobe, there are handy things you can do to clean the insides of your wardrobe. A magic eraser is great for removing scuffs caused by the clothes hangers. Remove any unnecessary clutter from the bottom of your wardrobe to make it easy to sweep or hoover the space where the dust would normally gather.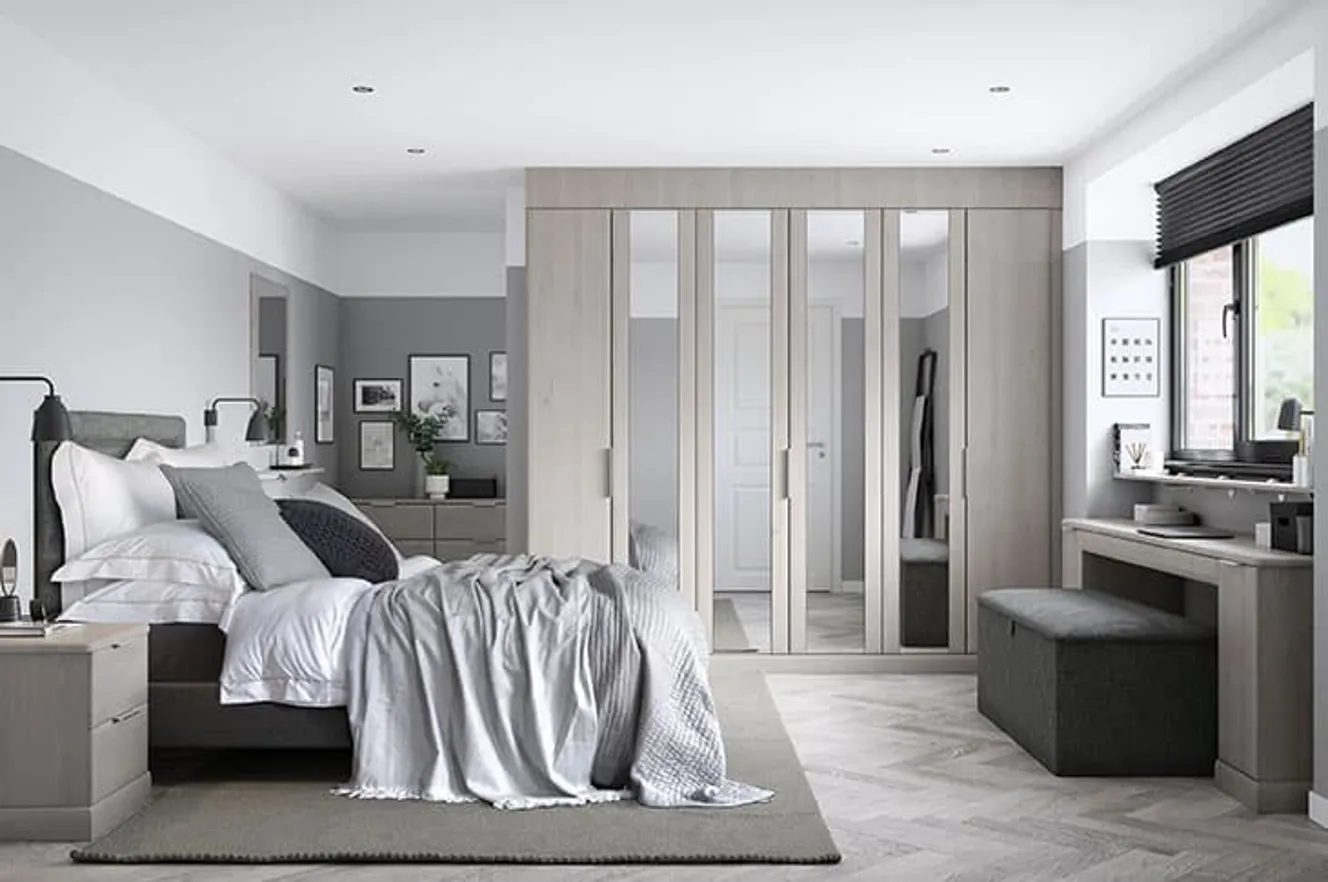 Keep an organised wardrobe interior 
Assess your space, you may find you have enough storage space for everything, but just need to store your items in a more organised way. Then, sort through all your belongings and throw away anything you don't wear or use. 
Wash anything that is going to be stored and organise your clothes by category. Try out the KonMari method and store your belongings upright so that you can see everything you own. That way you can be sure you won't buy anything you already have. 
If you use your wardrobe for shoe storage, make sure you give your shoes a quick clean before storing and remember to regularly give the shoe racks a wipe down. Shoes can bring in unwanted dirt, dust and grass so it's important to keep on top of this.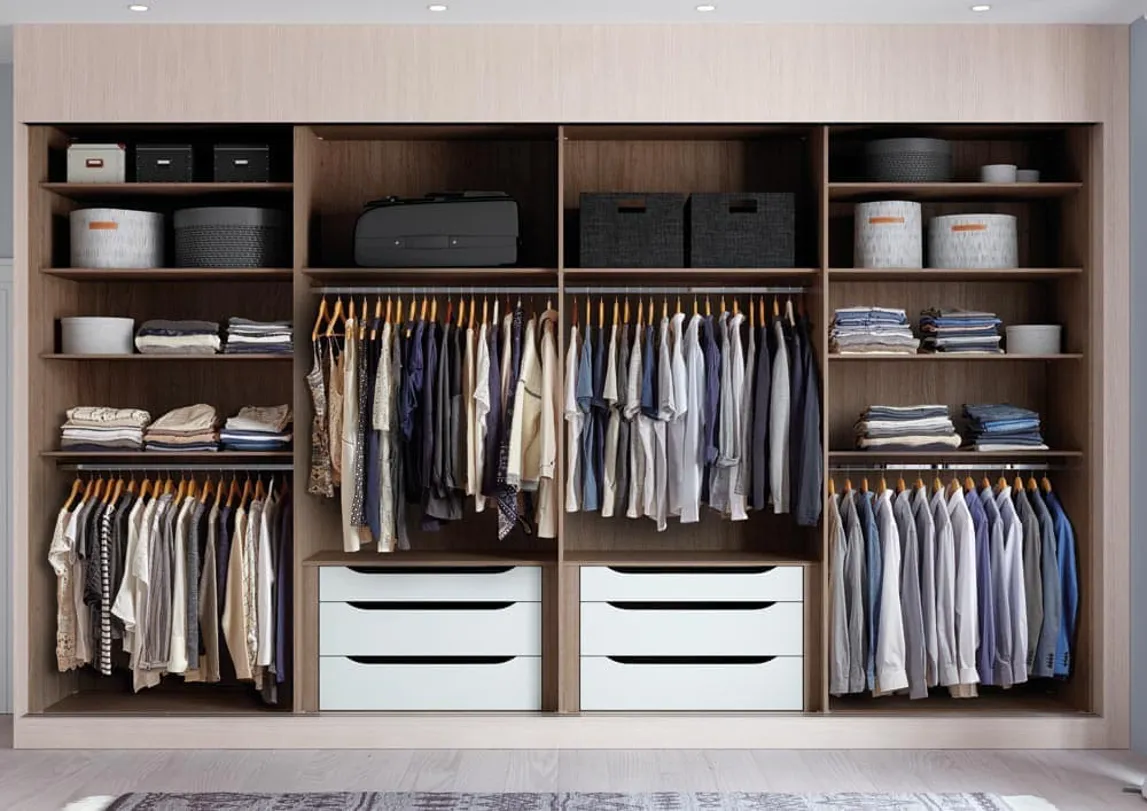 Following these simple steps can help you keep on top of your cleaning and ensure your wardrobes are kept clean and maintained, especially because it's housing all your favourite belongings. 
Don't forget, our 10-year manufacturers guarantee covers the failure of materials, so when it comes to the care for your fitted wardrobes, we've got you covered. For more information on our Hammonds guarantee, click here. 
For more advice on how to declutter and organise your bedroom, read our blog post here: Declutter and Organise your Way to Your Dream Bedroom. 
You bring the space, we bring the inspiration
Whether you have an exact vision in tow, or are just at the beginning stage of your home renovation, we have heaps of inspiration for you to get stuck into. 
Find a wealth of design tips, trends and inspiration in the pages of our brochure, magazine and on our blog. Our experts are always ready to help you create dream home, pop in store or book your free design visit for experts to help on bringing your vision to life.