How to Create a Relaxing Colour Scheme for Your Bedroom
| Bedroom, Inspiration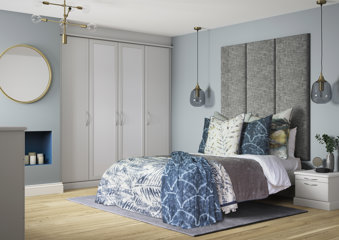 How to create a relaxing colour scheme for your bedroom
Do you want a bedroom refresh that makes your sleeping space as relaxing as possible? With all the stresses of modern life, there's never been a better time to redesign your bedroom, so you chill out and leave your problems outside the door.
Let's look at how you can be crafty with colour, so your bedroom radiates serenity and calm. You could take any one of these suggestions separately or even create an entirely new colour palette based on more than one idea!
Pair light and dark colours
Create the perfect balance of shades so you feel balanced when kicking back in your bedroom. Lighter colours can make a room feel airier, more open, putting you at ease. Pairing them with darker colours can reduce over-stimulation and completes a relaxing colour scheme.  
Don't assume that using dark grey or chocolate brown is a no-go for bedroom walls. When done well, this can achieve a relaxed, natural look you'll love. Applying dark colour to a feature wall, while painting the other walls and the ceiling white or cream, could strike that balance you're craving.
Embrace muted tones
Subtle, muted shades can work well together when creating a tranquil space to switch off in after a busy day at work. You can use muted tones of any colour to create this effect.
Why not try sea green with accent colours of off-white and soft grey? Or how about elephant skin grey with a cappuccino beige accent tone to keep your room feeling sunny and warm?
Use uplifting colour pops
While we usually associate more understated shades with tranquillity, don't forget about pops and bursts of brighter tones.
These can evoke feelings of happiness and provide a mood boost that creates not only a relaxing bedroom colour scheme, but a positive one.
You could do this with furniture as well, keeping your walls and ceilings more laid-back but achieving a colour burst effect with a bright wardrobe or bedstead. At Hammonds, we've got a wonderful range of fitted wardrobes which we can create bespoke for you in fresh, appealing shades like cobalt and juniper.
Clear your head with natural blue
A tried and tested favourite, it's no secret that blue has a calming effect, conjuring up associations of looking up into a clear, blue sky or at an endless horizon. Channel this mood into your bedroom by selecting a few of your favourite natural blue tones and incorporating them into your walls and decor.
If you want to make your bedroom appear larger, go big on paler tones like sky blue and ice blue. If you want warmth, inject tones of indigo or slate blue and make sure your furnishings and floors balance the look with warmer tones.
Calm down with neutral beige
If you just want to keep it simple and leave the colours for other rooms in your house, this is fine too. Neutral beige tones are something you can't go wrong with.
The great thing about beige is its warmth and versatility. You can pair beige interior design with any other neutral tone you like, which means it's the perfect companion to natural materials, such as wooden floors and linen bedding.
If you simply want an all-beige room, this can create a soft, cosy look that makes for a perfect time-out space and a minimalist, relaxing colour scheme.
Make your relaxing bedroom a reality with Hammonds
At Hammonds, we're full of tips to change up the style and colour scheme of your bedroom so it's somewhere that gives you a sense of calm. Book a free design visit today and talk us through your ideas. Then we'll help you design the bedroom of your dreams!
You bring the space, we bring the inspiration
Whether you have an exact vision in tow, or are just at the beginning stage of your home renovation, we have heaps of inspiration for you to get stuck into. 
Find a wealth of design tips, trends and inspiration in the pages of our brochure, magazine and on our blog. Our experts are always ready to help you create dream home, pop in store or book your free design visit for experts to help on bringing your vision to life.