How to design a sensory-friendly playroom
| Inspiration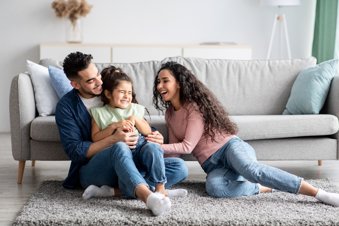 How to design a

sensory

-friendly
playroom
If you're looking to build a playroom for sensitive children or those with special educational needs, it can be tricky to strike the right balance between learning, therapy and play.
To help to pass the hours on rainy days or give your child their own quiet zone, a playroom could become invaluable. In this article, we'll discuss a few sensory playroom ideas to let your child's imagination run wild.
Think about colour and lights
When you're designing a sensory-friendly playroom, colour palette is an important aspect. Greens, blues, pinks, oranges and neutral shades are usually safe bets as these muted tones can create a calming aura within your playroom design.
However, if your child is mad about blue or wants everything to be green, a colour theme suited to their palette could help their playroom to feel more immersive. Add to that some mesmerising colourful LED lights and you'll be on the way to a calming yet inspirational children's playroom design.
Adopt a minimalist approach
Too many trinkets, toys and accessories can be overwhelming. To avoid sensory overload, try to keep your playroom a cool, minimalist space for your child by banishing clutter with clever storage.
An effective way to keep the floor clear is by using specialist fitted furniture adapted for media rooms and creative spaces. Our smart storage solutions can be installed in almost any orientation in your space, allowing you to create a playroom design that's optimised for your child's needs.
Think about adding some climbing equipment
If space allows, think about adding challenging climbing equipment to your sensory playroom. Climbing is an excellent skill to learn for children of all ages. As well as boosting their self-esteem through active problem-solving, it'll help to fine-tune their motor skills.
As your child gains more experience with a safe indoor climbing wall, they should find more functional strength, too. Then, as they build endurance, they might start to seek out new challenges and become interested a healthier, more active lifestyle.
Go for age-appropriate furniture
Every playroom needs a cosy corner where children can curl up, read a book and decompress, so adding some age-appropriate furniture could be a thoughtful touch. Soft sofa cushions and irresistible beanbags are always firm favourites.
Make sure to fill your playroom with appropriately sized tables and chairs to help your children to learn, play and draw. You might need to eventually upsize these but it's important to make your children's playroom design as roomy as possible.
Drawing and writing not only boost your child's cognitive development but could encourage their progress in language, too – and by setting up a comfortable environment in which to read to and play with your toddler, you'll both see the benefits.
Finish off with a few toys
All fantastic playroom designs come complete with an array of interesting toys. An important part of creating a sensory-friendly playroom involves the specific toys that you choose. You should try to pick toys that promote social and emotional development, as well as those that respond to your child's interests and passions.
For example, if your child is fascinated by trains or cars, why not add a few small toy cars? Paired with a floor-sized map and a few different models, you could start to see your child's confidence grow.
Bring your

sensory playroom ideas

to life with Hammonds
Ready to see the perfect playroom design take shape in your home? No matter how old your children are, adapting their environment in tune with their needs could be more significant than you'd expect.
At Hammonds, we've developed fitted storage solutions to cater for their growing personalities. Book a free design visit to discuss your sensory playroom ideas with our team of experts. From there, we'll help you to design an immersive yet minimalist playroom to nurture their curiosity.
You bring the space, we bring the inspiration
Whether you have an exact vision in tow, or are just at the beginning stage of your home renovation, we have heaps of inspiration for you to get stuck into. 
Find a wealth of design tips, trends and inspiration in the pages of our brochure, magazine and on our blog. Our experts are always ready to help you create dream home, pop in store or book your free design visit for experts to help on bringing your vision to life.