Showroom of the month - Peterborough
|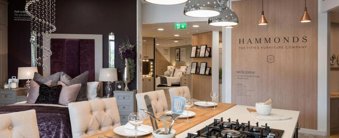 Showroom of the month - Peterborough
We're very excited to announce this store of the month is the recently relocated and rejuvenated showroom at Peterborough, located at Peterborough One Retail Park. Store manager Kayleigh was delighted to show us around and tell us all about the new showroom.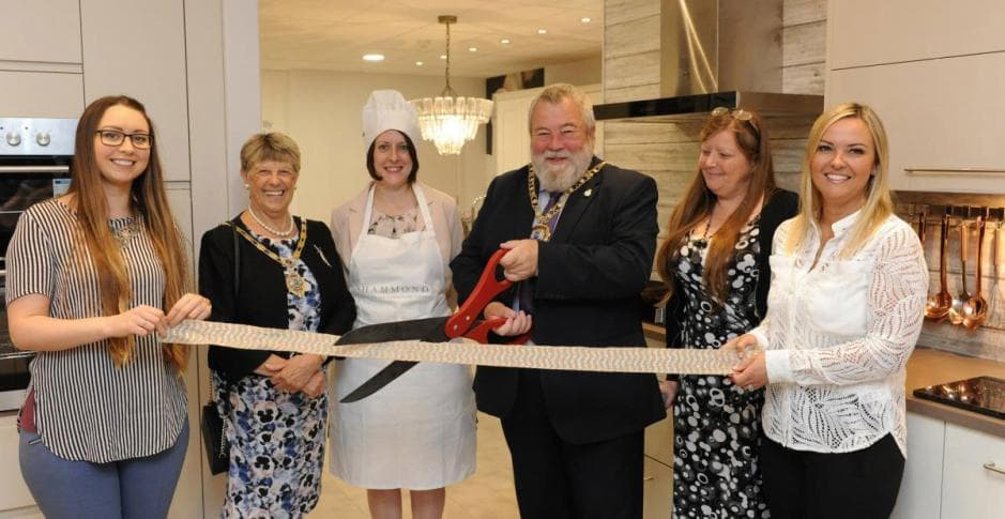 How do you feel the new location within Peterborough One Retail Park has helped customers?
"Moving to our new location at Peterborough One Retail Park has really helped our customers. With more space for displays and samples, everything is here for the customers to see, and it looks absolutely stunning. Every customer who comes into store is offered a barista coffee (or tea) from our Neff fully automatic coffee machine and at the weekends we have other refreshments available, meaning our customers can pop in for a chat over coffee whilst they browse our seven full-size kitchen displays, twelve bedrooms, home offices and our sample centre."
As you know, this is an exciting new expansion for Hammonds, now displaying kitchens in Peterborough. Can you tell me which brand new kitchen displays have been fitted here at Peterborough?
"We have every Hammonds kitchen range on display in our Peterborough showroom and also showcase some fantastic British appliances including sinks, taps, and ovens. As you walk in you'll find our elegant and contemporary Croft range, with built-in Neff appliances, stylish quartz worktop, and timber breakfast bar. Further, in the store, we have the more traditional shaker-style kitchens including Harraton, painted in Ivory with a granite worktop, and Highbury painted in 'Stiffkey Blue' accented with 'Plummett' grey. Painted in the home in the customer's choice of any Farrow and Ball paint colour."
"The Newton and Marlow are two simple yet sophisticated painted kitchens which we've complemented with durable quartz and Corian worktops. We then have Liverton which is available as a painted or a gloss kitchen. Our all-gloss range, Loxley, completes the tour of our kitchens, with bi-fold wall cupboards, neutral base cabinets, and a Staron worktop."
Could you tell me what ranges and styles of fitted bedrooms are also on offer for customers?
"At the front of the showroom we have our Harpsden bedroom in Rich Praline, we also have Harpsden Sliding in Stone. The Vigo range is displayed in our 'dressing room' in Light Pine with Vanilla Gloss and a Silver mirror. We also have Vigo in Dark Pine displayed, showing off our curved, push-open doors and interior glamour unit."
"Willoughby, a real wood veneer range is displayed as a bedroom and a study in the White and Chocolate washes. We're really happy to have a display of our chic new colour, White Ash, in the Willesley range, and our new range, Seton, in white!"
"Our best-seller Libretto Avola White is on display with a lovely built-in seating area, and finally we have our mix & match sliding, shown in Frost and Blue Metallic, displayed right next to the Elkin, with our really versatile metal stanchon interior."
Could you tell me some details about what storage options are available in kitchens?
"We have a wide selection of kitchen storage solutions. We always invite customers to open the doors and drawers as we walk around the showroom to discover clever storage solutions you may never even have thought about. To help customers choose their ideal interiors easily, we have a part transparent kitchen where you can see a selection of our storage options through Perspex doors. From pull-out tall larder cabinets that turn 180 degrees for super easy-access to drawers that make the most of wasted space under sinks to the low-line corner options such as the Le Mans, Magic Corner, and Carousel, to integrated bins, drawer dividers and spice racks."
Our selection of samples on display are there to help and advise customers on the colour and style options we have, above and beyond those in the showroom.  How many samples do you have in-store to help aid customers decisions?
"Along with our interactive touch-screen range and interior viewers throughout the store, we have over a hundred samples on display for bedrooms, kitchens, home offices, sliding doors, worktops, paints, fabrics, and handles. Everything a customer needs to begin to imagine their dream room before our designers and fitters turn it into a reality."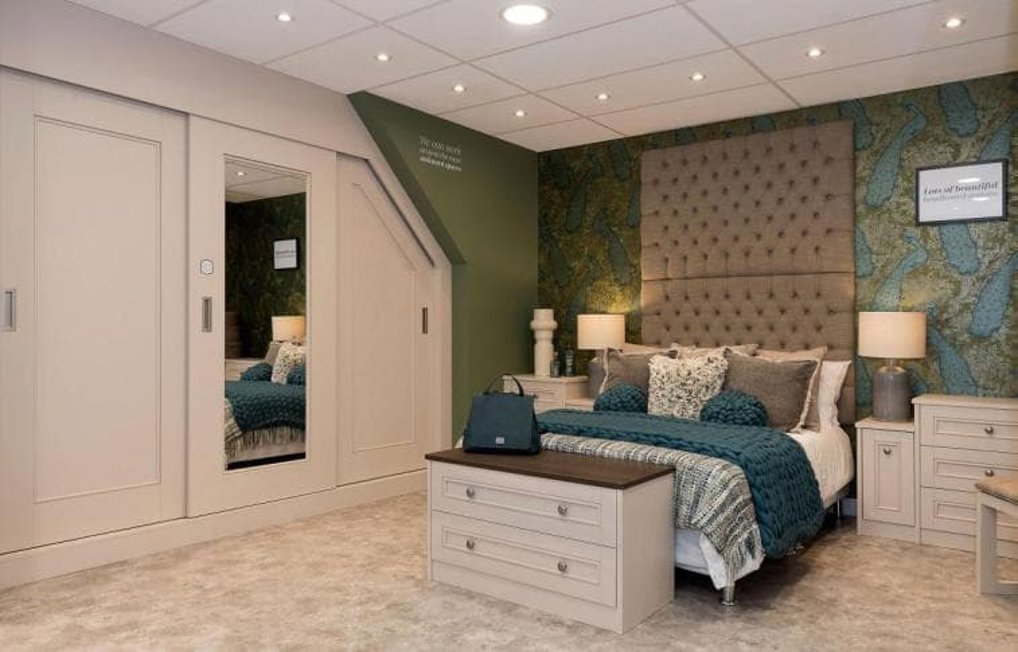 Are there any customisable storage options in bedroom furniture?
"All of our bedroom furniture is designed to suit each individual customer. You can customise your wardrobes to suit your storage needs. We have a variety of hanging rail options including double hanging rails, a pull-down rail or a forward-facing rail for tall or shallow spaces. Hammonds customers have a choice of the depths of drawers, adjustable shelving, interior lighting, internal mirrors, tie racks, pre-dressers, trouser racks, linen baskets, removable accessory trays, the list goes on..!"
Do you have furniture options for high ceilings?
"For high ceilings, we can use top-boxes which we have on display in our Harpsden bedroom at the front of the store and look absolutely stunning. There's also the option to have a front-frame wardrobe instead of our premium storage so you can store items all the way up to your ceiling!"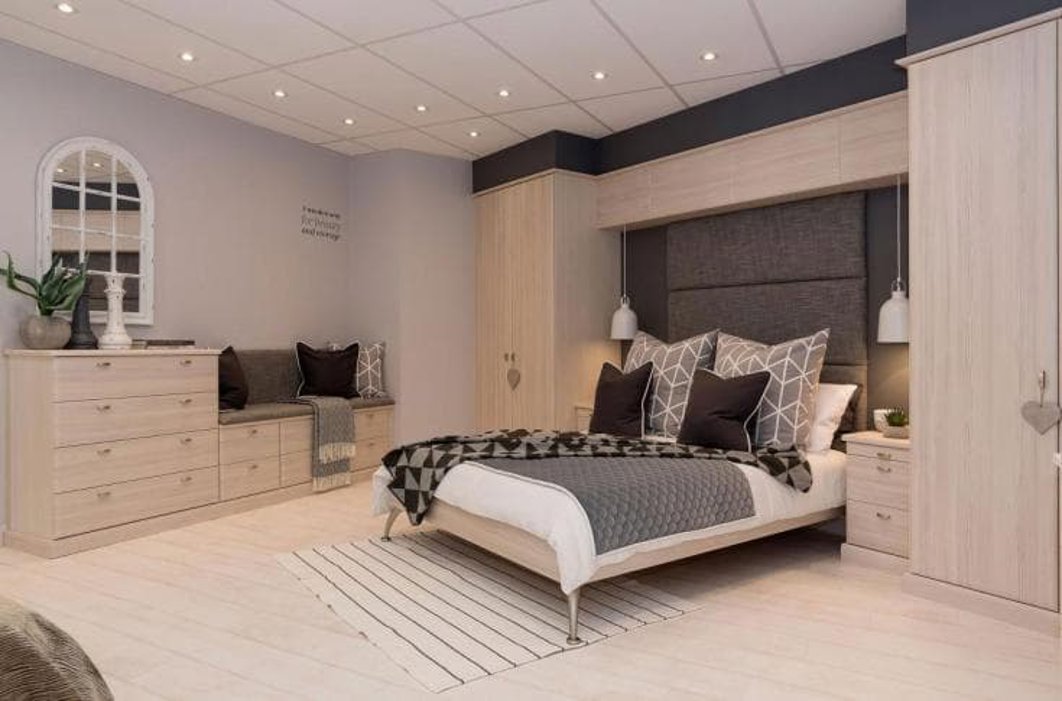 What is it like to work within a store located at the large and newly developed Peterborough One Retail Park?
"We love it. We have a great selection of shops including an award-winning garden centre and the site is still growing. The Park has recently been rebranded and is becoming more and more popular with Peterborough families. PE1 holds regular events which create a real buzz and make the weekends really variable and exciting. There's free parking for staff and customers and great bus connections. We also have regular coach parties visiting the site. We're not far from the A1 and our location joins the A47, A15, and A16 roads, making us convenient to visit from all surrounding areas."
How did the opening weekend go?
"Our opening weekend was a lot of fun! We had refreshments including champagne and cupcakes for everyone visiting the store, which went down a treat. One of the main highlights was cutting the ribbon with the Mayor & Mayoress of Peterborough and a giant pair of scissors. We had lots of new visitors who were inspired by the furniture. We wish every day could be like that weekend but to be honest, the excitement is still here as we love working in this beautiful new showroom!"
Could you tell me your opening times?
Monday: 10am - 5.30pm
Tuesday: 10am - 5.30pm
Wednesday: 10am - 5.30pm
Thursday: 10am - 5.30pm
Friday: 10am - 5.30pm
Saturday: 9.30am - 5.30pm
Sunday: 10am - 4pm
Head to the store locator page to find directions to the showroom. 
You bring the space, we bring the inspiration
Whether you have an exact vision in tow, or are just at the beginning stage of your home renovation, we have heaps of inspiration for you to get stuck into. 
Find a wealth of design tips, trends and inspiration in the pages of our brochure, magazine and on our blog. Our experts are always ready to help you create dream home, pop in store or book your free design visit for experts to help on bringing your vision to life.