Chest of Drawers Buying Guide
|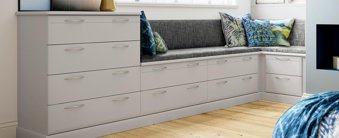 Chest of Drawers Buying Guide
A chest of drawers provides valuable additional bedroom storage. It's the ideal home for bedding and towels, as well as those smaller items that can't be hung in your wardrobes. To help you find a chest of drawers in the perfect size and style to suit your bedroom décor, we've created this handy guide.
Chest of drawer styles
With such a wide variety of drawers to choose from within our collection, consider what style your room is taking shape into. If your home and style reflects a modern and contemporary look, we have a great range to give that distinguished, linear look from high gloss to mirrored. Or for a more traditional look, we have a wide collection from our classic range, explore some style options below. 
Mirrored chest of drawers
To make a statement and to make the space appear bigger, choose a mirrored chest of drawers. Bronze or silver mirrored drawers combined with a sleek pine or walnut finish will create a feeling of luxury. Mix and match this range with gloss drawer and wardrobe fronts. Here our Vigo Light Pine has a curved cupboard door alongside the mirrored chest of drawers.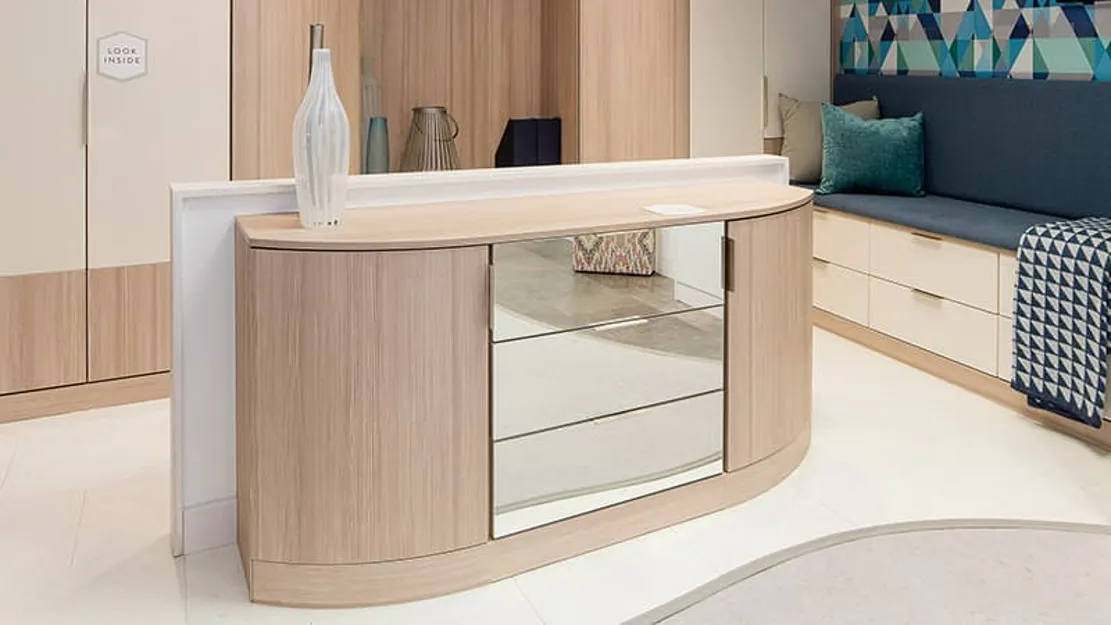 Tall chest of drawers
A tall and narrow chest of drawers will work well in small rooms, maximising storage without taking up essential floor space. Our 5 drawer chests go up to a height of 1157mm tall in a variety of widths. However, if you have a large bedroom make a statement with a wide chest of drawers. Low styles can even double up as a TV stand, the perfect multi-use of space. 
Oak chest of drawers
If you love the look and feel of real wood then you'll love our Willoughby range of chest of drawers. Sturdy and stylish with an abundance of real wood finishes, from Natural Oak to deep and decadent Espresso Washed. A natural look that is skilfully handcrafted, this oak finished chest of drawers is available in different widths and heights.
Narrow chest of drawers
Our collection of narrow chests of drawers make the most out of available space in smaller bedrooms and are available in our wide selection bedroom ranges. Choose a 5 drawer high chest in a narrow width of 442mm which can fit neatly and snugly providing clever storage.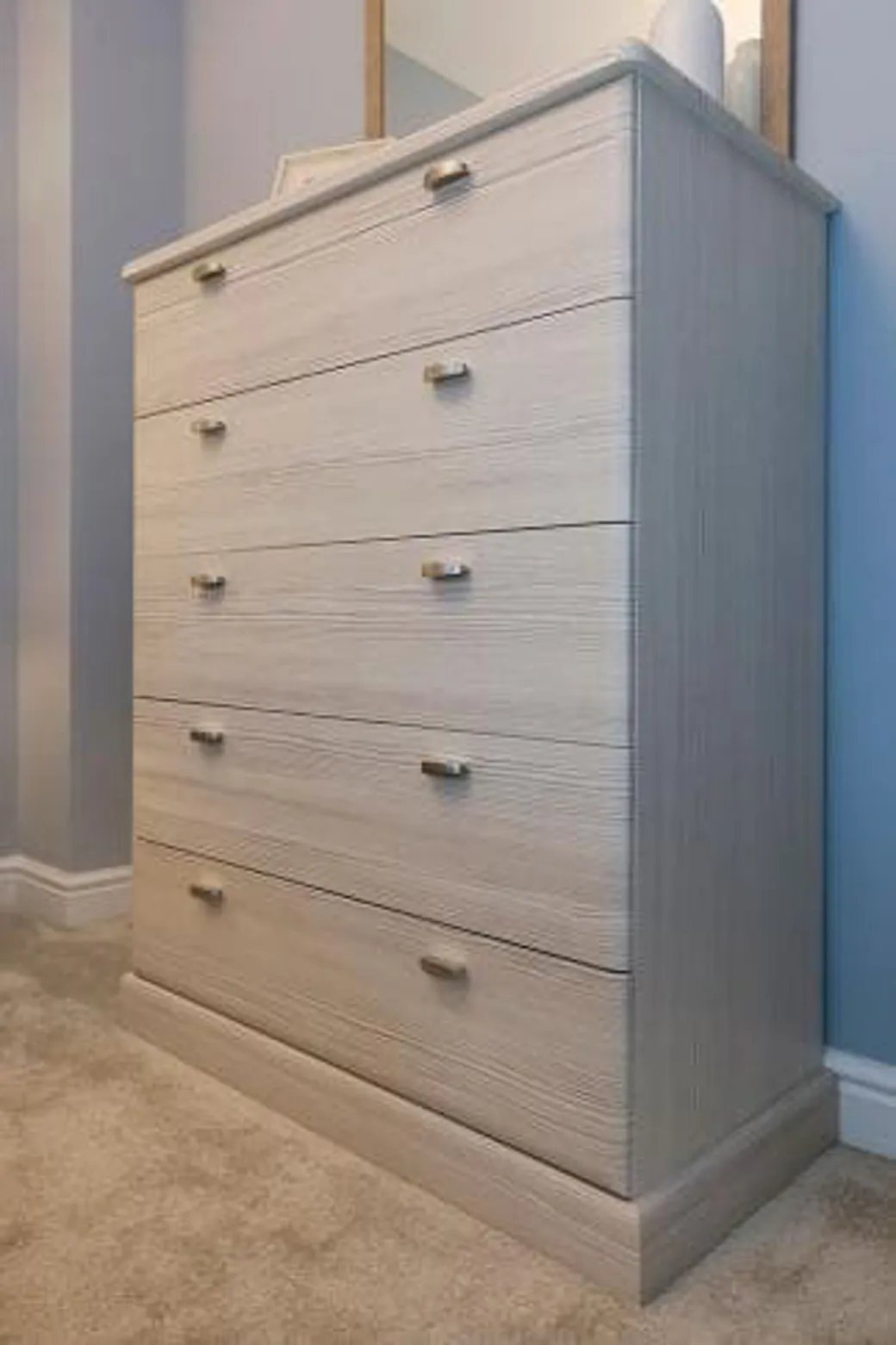 Chest of drawers colour and style matching
White chest of drawers
Matching white fitted furniture and white chest of drawers reflect the light in the room. Gloss white chest of drawers can be available in our Elkin range, creating clean lines for the ultra-modern look. For something a little more delicate, our Avon range chest of drawers is available in matt white with a delicate curved edge for a relaxed yet beautiful finesse.
Black chest of drawers
Deep toned and decadent, our nearly black coloured chest of drawers are available as Espresso Washed Willoughby wood range. A sturdy collection made with true craftmanship and encompassing the shaker style and look of a classic look. Alternatively choose from our wood grained to the touch, Vigo in Dark Pine. A modern look also available with a mirror fronted drawer.   
Grey chest of drawers
Encompassing the grey trend currently widespread, we have an abundance of grey chest of drawers available within our collections. Our classic shaker style ranges such as the Croft or Harpsden oozes decadence with a hand-painted finish in Light Praline, Rich Praline, Dust Grey and Dove Grey as well as so many more tones. In addition, choose from Elkin in cashmere for that sultry greige gloss cabinetry tone. Our Light grey chest of drawers are also available in Seton, Radley, Libretto and Avon. 
Size and Design
Our chest of drawers are available in a multitude of widths and heights so you can choose the one perfect for your space available. From 1 drawer to 5 drawer chests and available in our wide collection of furniture designs and finishes, the choice is endless. Our furniture showrooms allow you to see the chest of drawer designs locally to you. Visit your nearest one to see the selection of samples and displays on offer. 
For more inspiration, see examples of real customer's homes with chests of drawers and bedside cabinets available. 
To explore a selection of the styles available view our chest of drawers page or find out more about a complete Hammonds fitted bedroom here. Book a free design visit and speak to one of our expert designers today.
You bring the space, we bring the inspiration
Whether you have an exact vision in tow, or are just at the beginning stage of your home renovation, we have heaps of inspiration for you to get stuck into. 
Find a wealth of design tips, trends and inspiration in the pages of our brochure, magazine and on our blog. Our experts are always ready to help you create dream home, pop in store or book your free design visit for experts to help on bringing your vision to life.