An introduction to Regencycore
| Bedroom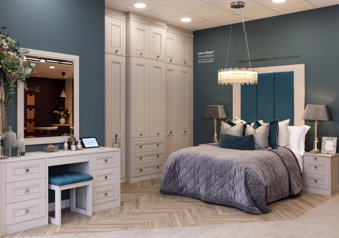 An introduction to Regencycore and how to incorporate it into your bedroom
Regencycore is one of the latest interior design trends to spread like wildfire. It's four-poster beds, lavish gold mirrors and draping curtains in heavy fabrics. It's opulent but classy, a bit show-offy but quietly elegant. It's heavily inspired by Bridgerton – and it's all quite fabulous. So how can you achieve this 19th-century look in your 2022 bedroom? Here are our best Regency décor tips and tricks.
Pick your wallpaper
When it comes to wallpaper, Regencycore sits somewhere between rustic and regal. The natural curves and colours of flowers are a great nod to the trend. Roses feel particularly Bridgerton and, if there are some native English birds in the pattern, then so much the better. Delicate paisley patterns would also help to build the aesthetic. Keep the tones light and fresh, so that your bedroom feels like a clean, calm place to rest.
Invest in a four-poster bed
Beds were big for the wealthy families of the 1800s so, for your Regency-style bedroom, you should think about investing in a four-poster bed. Whether you go for a wood or metal frame is down to your own style – either will achieve the look. And if it has an option to drape some fabric over it then that will add not only a bit of a flourish but also create a cosy nook for sleeping.
Source classic furniture
Regency-period furniture would have been made by hand from natural materials so, to achieve the Regency décor look, think carefully about the furniture that you include. We have already talked about your four-poster bed but, when it comes to fitted cupboards or chests of drawers, then think classic. The panelled doors in our Traditional and Shaker-style ranges are perfect for this look. Vintage finds can also add some flavour. Flea markets are often full of old chests, which can look perfect at the end of your bed and are brilliant for storing bed linens. A decorative wooden table can also work beside the bed as a place for your lamp (and maybe your embroidery).
Swap modern lampshades for a glittering chandelier
A gorgeous glass chandelier will perfectly complement the wooden furniture and the patterned wallpaper. Go as large as your bedroom and budget will allow and, the more hanging crystals that your chandelier has, the more that it will catch the light.
If you are lacking in ceiling height, then you could opt for wall sconces instead; many come with crystals or gold leaf design for the same effect. Original Regency chandeliers would have been lit with candles so lights with flame style bulbs can also work well.
Think about storage
Real Regency bedrooms would have been spotlessly tidy thanks to the troop of servants cleaning up after everyone. Certainly, no one in Bridgerton had dirty clothes on their bedroom floor! While we don't have the servants to help to keep things clean and classy, Regency-style, we do have the ability to organise ourselves with thoughtful fitted storage. Bedroom furniture, whether it's alcove wardrobes or eaves cupboards, can make a world of difference when it comes to keeping tidy. When everything has its place, putting things away becomes a habit, rather than a chore.
One great nod towards Regency décor would be to have a fitted window seat, complete with storage underneath. You would have plenty of space to squirrel away cables, hair straighteners, computers (and anything else that doesn't fit the theme) and you could sit there and read poetry or gaze wistfully out of the window.
Add accessories
Finish off the look with some ornate accessories. A decorative mirror will do the trick (think a swirling gold frame) and a couple of small paintings of a bucolic scene would also look perfect. One of the simplest adornments, though, is a small vase of seasonal flowers. Every duke and duchess should have one.
Let Hammonds help you to add the royal touch
Book a Hammonds design visit for help designing your Regencycore bedroom with ample storage to hide away the chaos of modern life. Our experts will design a look bespoke to you and your life.